Case Study: WIN Corporation and Crawford Productions
DAMsmart has recently completed a digitisation project for WIN Corporation and Crawford Productions PTY LTD, digitising iconic Australian Television series from the 60's though to the 90's. Some of the programs include The Sullivans, The Flying Doctors, Homicide, All the Rivers Run, Carson's Law and Acropolis Now.
WIN had already transferred the collection from 2-Inch and 1 -Inch masters to Digital Betacam. It was the job of DAMsmart to digitise the Digital Betacam video tape collection using our quality controlled process without huge expense or lengthy timeframes.
The aim of the project was to create a highest quality digital video collection ready for ongoing preservation, with the ability to create DVD masters on demand. WIN chose JPEG2000 as the master format, as any lossy format was considered unacceptable, and uncompressed proved too large for the amount of content material to be digitised and managed.
In entirety we digitised over 7,800 episodes, equating to around 3000hrs. We played back the material using a combination of Sony J-30 and DVWA500P VTRs. For this project our video technicians utilised digital Betacam cleaning machines, SAMMA Solo QC and encoding, Master Control multi-channel monitoring and alarms, technical metadata analysis and file QC. This enabled us to confidently run 10 streams of video simultaneously.
Although most cassettes played back without fault, we discovered some had suffered from physical degradation, which resulted in channel condition errors (which can be sometimes corrected or concealed by the VTR, or result in a digital audio splat, or blocking in the image.) The SAMMA system records any channel condition errors through RS422 VTR control protocol, and is displayed visually as a flagged error in playback. We found that for these problem tapes usually played back better in the DVW's.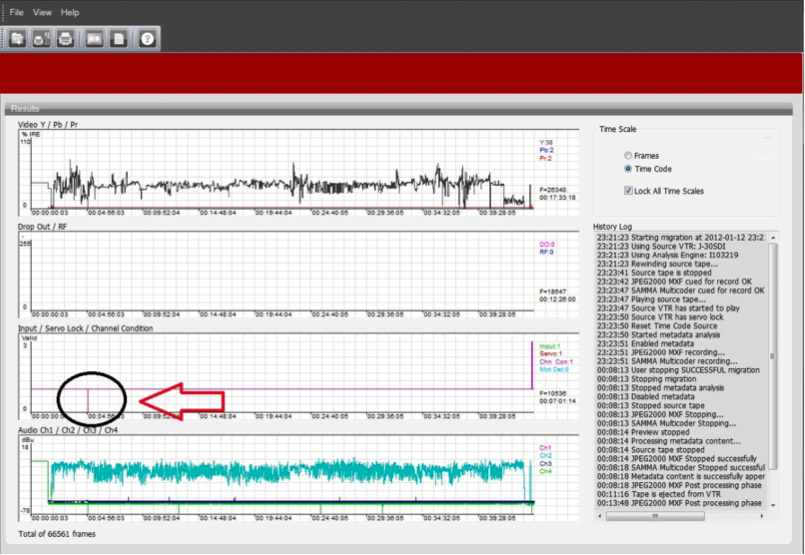 Channel Condition Error
The digitisation metadata (including a checksum for the JPEG2000 file) is stored within an XML file. It was a prerequisite of this project to provide a full technical document relating to the digitisation process, and our XML report was able to meet all the compulsory information requirements along with technical notes on the transfer from our technicians.
After QC work the files were sent to data tape ready for delivery. We wrote the data to LTO utilising 4 x 10 GB fibre channel LTO 4 drives within a TS3310 IBM tape library. Files were written using uncompressed POSIX TAR formatted LTO4, employing software and hardware file error correction.
As an example in physical size comparison, we wrote 24 60min episodes on one LTO4 cartridge. And double that for LTO5!
Size comparison between Betacam cassette and LTO cartridge
In total the final data size was 132 TB on 200 LTO4 carts.
On delivery WIN restored the JPEG200 files to disk, verified the checksum, and using Telestream transcoded the preservation file to a browsing copy and DVD master file.
It's great to design a project where the preservation format is utilised immediately through access requirements, not waiting in line for a data check integrity check sitting on a shelf.
DAMsmart is proud to be a part of ensuring the longevity of Australia's television cultural heritage.